Porn - How To Ruin A Wank



Anyone who says they don't like porn is lying.

That's like saying you don't get turned on by sex. If you just went to open your lying little gob in protest, then I will tell you now that if you THINK you don't like porn, then you're just watching the wrong type!

There's something for everyone. It's like religion! You can even stick to 'your' kind of porn and be ruthlessly against any other type that you don't like/understand!

Personally, I like it real. Real people, real sounds, real sex. This fake Hollywood porn never did a thing for me since I was 12 years old - other than bore me. Blowjob - hard fast sex with her screaming constantly - cum all over her face. Get the fuck out of here!

Since the internet is here and choc-full of porny badness there are many different varied types. Strangely, if you order your potential porn downloads on any site, you'll see that the top results are all animal sex, rape, torture, and shitting in each others mouths! How does this work??? I mean, I can understand people viewing this stuff for a laugh and to show their mates... but these being the top results undoubtedly means that a Hell of a lot of people are using this kind of stuff to get off.



You sick little monkeys!

Anyway, as a tribute to the modern trends of porn, here are the things that are becoming all too common in porn that turn me right the fuck off. You can bet all these things will be seen as 'the norm' in a few years time, and your partner will be expecting this from you in the bedroom.



Anal


I've put this one in as proof of my last statement. This has always been going on, but it's only in the last 20 years that this has become mainstream and almost expected in any porn. Who wants this? Fair play if you are into this, but I'm sure I'm not the only one who really doesn't want to see broomstick-up-the-butt action? ALL the time.

It really is hard to find porn of any kind without anal. This now includes all the amateur stuff. And you wonder why your boyfriends have all wanted to poke you up the pooper.

In this, I'm also going to include fingering assholes of either sex, and licking and tounguing their stinky brown ring. Wash your fucking mouths out with bleach!





Spitting


Is your crack-whore not turned on enough for you to rape her ass? Can't get that 16" dick all the way down your gullet?

Hock up a big white frothy lugey and spit on that pink-part like you're a 14 year old Chav sat on a park bench!

What the fuck???? Do I need to say more?





Gagging


I think this one is probably worse than spitting. A blowjob with deep throat action isn't enough anymore. It's better if you stick your cranny axe so far down her throat that her eyes stream with tears and she gags.

Even better if she spews a little bit, and her biley phlegm strings out from cock to mouth and drips down over her breasts, right?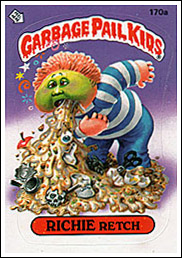 Get It Up!


Porn is supposed to be turning you on. You'd think that this would be helped along if the people making the damn thing were turned on too, right?

So what's all this stuff with having to fold his half-flaccid penis into your squish mitten? And even worse when she's bouncing up and down on it and you can SEE his shaft bending over double!

ARGH!!! STOP!!! YOU'LL SNAP IT!!!!





Sound Dubbing


Oh this one really pisses me off. Most of you will know that in my world, there is NO sexier sound than a woman in the throes of orgasm. Not even a Chevy small block V8.

Please note that I mean the sound of her REALLY cumming - not OOOHHH AHHH! YESSS! FUCK ME HARRRD!!!

Being able to jusssssst hear her whimper in pleasure, or hardly making a sound... you know - all that involuntary stuff. THAT'S where it's at.

But if the makers review their clip and think they're being too quiet, what do they do? That's right - they dub hard porn screaming sounds over the top like some badly dubbed Kinder Surprise advert!

NO.



Facial Finish


I've never understood this one. 30 minutes fucking her only to pull out and spurt your man-batter all over her face. In every single fucking scene.

Are people doing this in the privacy of their own homes?

Personally, if I'm enjoying the sex then a herd of wild World Strongest Men wouldn't be able to drag me out of her when I'm about to cum! Especially not if it mean pulling out then wanking myself off for another 10 minutes until I can deliver the payload over her face?!

And then you get to look at some other man's baby-making snot at your crucial moment!

That can't be right?!?



Have I missed any? Are you finding your partner wanting this stuff in the bedroom?

Are you finding YOURSELF wanting to copy it?